Are aviator style sunglasses and glasses still in style?
When we think of classic sunglasses and glasses styles, the aviator has to be up there. The shape, with that bar going across the top, is so iconic that everybody recognizes them. But are they still in style, after all this time? We certainly think so, and we're going to tell you why. 
History of Ray-Ban aviator sunglasses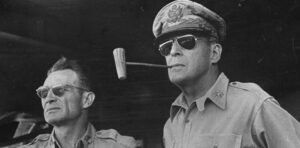 Aviators were first developed by Ray-Ban in the 1930s for US military fighter pilots. The design was all about maximum eye coverage, stopping pilots from being blinded by the glare of the sun above the clouds. The thin frames were designed to be worn with headgear, and the lenses were anti-glare. 
Ray-Ban soon realised that these sunglasses would appeal to the public too, and it wasn't long before they were being sold to golfing and fishing enthusiasts. It was WWII that really made the aviator take off though. Images of heroic pilots wearing their aviators, plus an influx of military surplus after the end of the war, meant they quickly became a popular fashion accessory.
Aviators on the big screen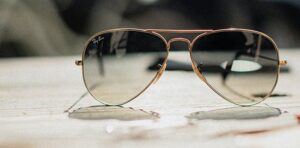 Aviator style sunglasses have starred in a plethora of iconic movies over the years, including Easy Rider, Dirty Harry, Top Gun, and Reservoir Dogs to name just a few. They've found fame off-screen too, with many celebrities choosing to don the timeless classic. Of course, all of this adds to the desirability of the style. Who wouldn't want to look like a hero or a star? 
Why choose Ray-Ban aviator sunglasses?
Ray-Ban may have invented the aviator but it didn't take long for other designers to jump on the bandwagon. So, why choose Ray-Ban? For us, it's simple. Though they may have first designed the aviator over 80 years ago, Ray-Ban has never stopped developing and improving the style. Technology and innovation are important to Ray-Ban and there is certainly no danger of the forward-thinking brand becoming stuck in the past. 
How to choose the right aviators for you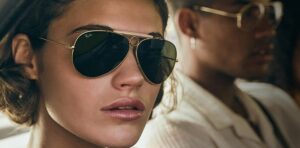 Of course, aviator frames are not just for sunglasses. It's a great style for everyday optical frames, too. The word aviator encompases a wide range of style options, and we believe that everyone can find a pair of aviators that will suit them at our opticians in Potters Bar, Finchley, or Temple Fortune. The teardrop shaped lenses will suit most face shapes, but it is a bold look. In some styles the shape is less pronounced, giving a softer effect. The right frame colour is another important choice. Gold is a classic choice, but a range of other colours are available. 
While aviators may have been worn by men first, it's actually a great style for any gender. Oversized glasses are on trend, which is ideal for the aviator style. And if aviators just aren't for you, Ray-Ban have plenty of other classic frame styles to choose from. Like the aviators, wayfarers and clubmasters never go out of fashion.
View the collection in our practices
Have we convinced you yet? Ray-Ban aviators can never go out of style. Browse the collections and decide for yourself at our opticians in Finchley, Potters Bar, or Temple Fortune.