Merry Christmas From Optikal Opticians!
Christmas is around the corner and in true end of year tradition, we thought we'd look back over the past 12 months to see which brands deserve the crown of best eyewear and best contact lens brand of 2020!
We stock a range of eyewear brands and contact lenses across our opticians in Potters Bar, Finchley and Temple Fortune, including frames from Tom Ford, Cartier and Ray-Ban – so the competition was tough.
The winner of eyewear brand of the year would have to be stylish, durable and perform outstandingly well, while the winner of our contact lens of the year would have to be an innovative, outstanding product that gives an exceptional experience to the wearer.
Our team drew on their industry expertise and experience, as well as customers' feedback throughout 2020, to make what proved to be a tough call in each of the categories.
And so without further ado, the winners are:
Best Eyewear Brand 2020: Persol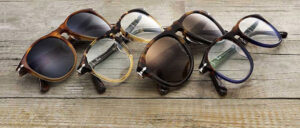 Persol is known for its high-quality and stylish eyewear. Founded in Turin in 1917 by Giuseppe Ratti, its glasses ooze Italian class. In the beginning, Persol supplied the Italian army and motorsport drivers, and their glasses continue to marry durability and style to this day. The company has stayed true to its roots and every pair of glasses is still made in Italy.
Unique Style
Persol glasses are handmade with care and attention using Italian acetate. We love how this gives them a one-of-a-kind look with echoes from the natural world. The famous silver arrow that the frames carry makes them instantly recognisable the world over.
But it's certainly not style over substance. Persol glasses use top quality lenses, and its Meflecto system ensures a great fit. Patented in the 1930s, the system allows the arms to flex, relieving any pressure on your head. It gives a firm but relaxing fit and in terms of comfort and we don't think it's been bettered yet.
Best Contact Lens 2020: Dailies Total 1 Multifocal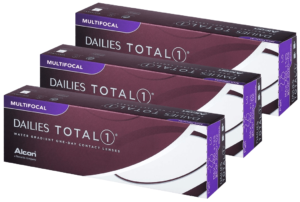 Dailies Total 1 Multifocal lenses get our vote because they're a winning combination of comfort, a highly effective moisturising technology and great optical performance. They feel so smooth you'll forget you're wearing them.
The lenses are made using silicone hydrogel with an outer surface that's almost 100% water. This means that they remain exceptionally lubricated and float on your eyes without any friction or discomfort.
The contact lenses are designed to help you overcome presbyopia, which makes it harder to focus on nearby objects and it's a condition that many of us get as we age. It's completely normal but can be frustrating when carrying out simple everyday tasks, like reading a book, looking at a smartphone or working on a laptop.
The precision lens design overcomes this. They help you focus with clarity on nearby objects and are great for switching between near and far.
So that's our wrap-up for 2020! We wish all our customers a very happy Christmas and New Year. Let's hope that 2021 will be an easier year for us all, and we look forward to seeing you in person in the new year!