Could A Retina Scan Save Your Vision This Year?
In these unprecedented times it's easy to feel that your health is beyond your control. Thankfully, it's still possible to take charge of your eye (and overall health) with our advanced retina scan – the Optomap – available at our opticians in Potters Bar, Finchley Central, and Temple Fortune.
We believe in making health a personal priority in 2021 and want to explain how this non-invasive retina scan can identify diseases that affect the eyes, and ultimately save your vision.
How Does The Optomap Scan Work?
Your experience
When you sit down, you'll be asked to look into the Optomap scan's viewing area. A light will then flash to signal that the image has been captured. Taking under half a second, this will then be repeated for your other eye. It really is that quick! It's also safe, as your optician can remain at least 1 metre away during the process, completely painless, and suitable for adults and children alike.
This detailed look at your eye health will highlight any changes or abnormalities that our optometrists can immediately view and discuss with you and keep in your records so they can then compare any future scan results to previous ones.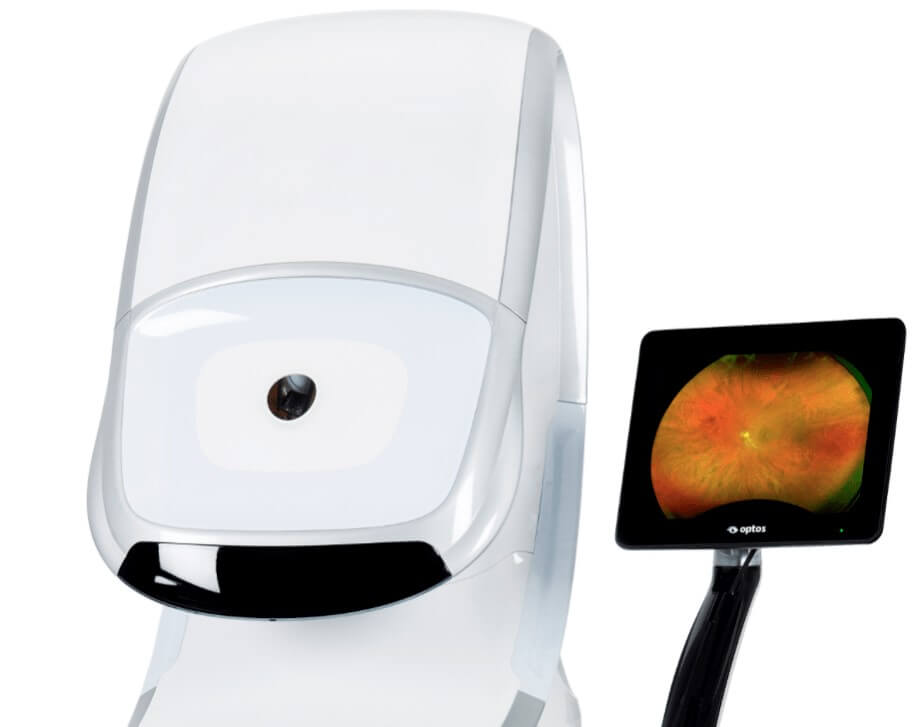 Behind the scenes
A high-resolution digital image of the back of your eye is formed by shining a combined green and red laser through the Optomap, into a virtual point behind the iris. These then return through the machine and split back into green and red light to build up a 3D image of the back of your eye that we can then view.
What It Can Show
The advantage of this type of scan lies in the scope it can capture a panoramic image in one go. Rather than viewing 15% of the retina via traditional scanning methods, the Optomap's ultra-widefield retinal imaging can show up to 80% of your retina, in other words a 200° view.
We can use this highly accurate image to detect any early signs of eye conditions including:
retinal detachment and tears
diabetic retinopathy
age-related macular degeneration
melanoma
hypertension

How the Scan Protects Your Eye Health and Vision
Including the Optomap scan with a routine eye examination is highly beneficial, as early detection of eye conditions, some of which may be potentially sight threatening, means we can take rapid action to refer you for treatment and effectively manage the condition to prevent further deterioration of your eye health.
It also means that we can take steps to monitor your eyes more regularly and keep an eye of any small changes that we suspect may present a risk further down the line.
Keeping You Safe
The Optomap is completely Covid-safe and doesn't require you to be in very close proximity with your optometrist.
Make looking after your eye health one of your priorities this year, call any of our Optikal Opticians practices to find out more and book an appointment.
Please note admission is by appointment only, so we can control the number of people in the practice and comply with social distancing regulations.