Our favourite frames for 2023
Glasses are much more than just a means to help you see clearly. They're also a style statement that can make you look and feel great. A fabulous pair of glasses can make an outfit, while a mismatched pair can break one, and that's because trends in eyewear get as much attention as other aspects of fashion.
We believe in both style and substance at our practices. As well as helping you maintain healthy, clear vision with our expert eyecare services, we can also help you choose frames that let your personal style shine and keep you right on trend for 2023.
Choosing the right glasses frames for face shapes
Just like clothes, different frame styles suit different people. Your face shape is the most significant factor in determining what glasses will look best on you. Here are our top tips for choosing the right frames to compliment your face shape:
1. Heart – A heart face shape is broad at the top and narrow at the chin. Lots of frame styles will suit this face shape. Wayfarers and other rectangular styles can look great and won't exaggerate your wider cheeks. Oval glasses also have the same effect, while rimless glasses can help soften your features. Reese Witherspoon has a heart-shaped face and is often snapped wearing popular Wayfarer-style frames.
2. Oblong – If you have an oblong face shape, avoid rectangular and narrow frame shapes as these can make your face look longer. Bold shapes and frames with detailing can help add depth and width to your face and will suit you well. Think of Tom Cruise wearing classic aviators in Top Gun.
3. Diamond – People with a diamond face shape have wide cheekbones and a narrower forehead and jawline. Large, oval frames will help soften the sharper angles of your face, and cat eye frames on women can follow the lines of the face for an elegant and sophisticated look. Jennifer Lopez has a diamond face shape and loves wearing big, bold frames.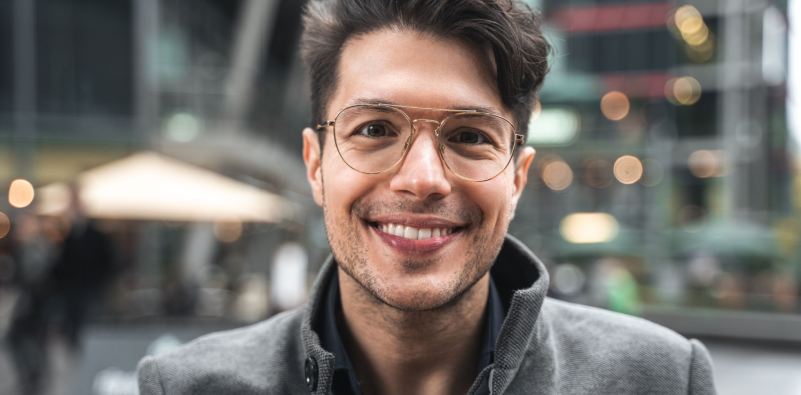 4. Oval – Oval face shapes have rounded edges and are well-balanced. Cat eyes will flow with your soft face shape, and oversized square or round frames can also look great. Rihanna is a big fan of funky, chunky styles.
5. Round – People with round face shapes have fuller cheeks, a wide forehead and a soft jawline. Bold and angular frames can work very well with the softer edges of your face, such as traditional square frames. Semi-rimless frames can also work to balance out your features. Selena Gomez has a round face shape and is a fan of classic square and rectangular frames.
6. Square – If you have a square face shape, you have a broad forehead and wide jawline. Larger oval frames, or round frames will compliment your face shape and help to soften the angular edges. You should avoid thinner geometric and square styles, as these can accentuate your broad features. Angelina Jolie famously has a square face and likes wearing large and oversized frames.
7. Triangle – Triangle face shapes have a narrow chin and wider forehead and cheekbones. Rimless styles will avoid exaggerating the width of the top half of your face and work well. For women, oval frames that aren't top-heavy look great. For men, round frames that aren't too thick can also work well. Victoria Beckham has a triangle face shape. Whilst she's not often snapped with glasses, when she is, she's wearing large, oval frames.
Glasses trends in 2023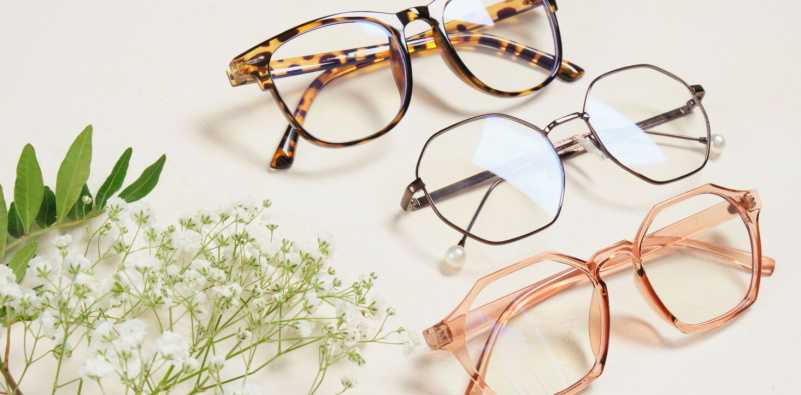 2023 is shaping up to be an exciting year for eyewear fashion – here's our take on some trends we think are ones to look out for:
1. Geometric shapes – Geometric shapes work with a variety of face types and look set to be big in 2023. Tortoiseshell, metal and brightly coloured acetate frames are likely to be popular. And for a vintage 1970s look, think large, chunky frames in bold colours.
2. Clear frames – Understated, modern and cool. Translucent frames add a real air of sophistication to your look. Check them out in transparent grey, honey hue and shades of pink.
3. Tinted lenses – For a modern and outdoorsy look, opt for tinted lenses in your sunnies this year. Attention-grabbing rose and blue tints are set to be in vogue.
4. Wire-framed round glasses – They might make you think of Harry Potter, but the bookish vibe of round, wire-framed glasses looks to be a hot trend for 2023. Men looking for that intellectual hipster vibe, take note. What's more, wire framed glasses are known for being durable, flexible and wonderfully lightweight.
5. Embellished frames – One for the divas. 2023 is your year to channel your inner Marilyn Monroe and Audrey Hepburn. Choose opulent frames with elegant embellishments like diamonds to give your look that glamorous edge.
6. Bright colours – Brightly coloured frames are becoming increasingly popular, and are a great way to add a statement to any outfit. From thick bold frames, to dainty metal designs there are so many ways to incorporate a splash of colour into your eyewear collection and lift your whole look.
7. Thick-rimmed marble frames – Multi-colour frames that look unique and come in wonderful, organic patterns. They're thick-rimmed for that retro-modern look and work in a variety of frame shapes. They're a top pick for anybody looking to make a bold style statement in 2023.
Etnia Barcelona glasses
Many of these frame shapes and styles can be found in our Etnia Barcelona eyewear collection. Etnia Barcelona frames have adorned the faces of countless uber-stylish celebs, including Naomi Watts, Brad Pitt and Sienna Miller.
Designed in Barcelona, all frames are carefully constructed by hand and come in a fantastic range of on-trend styles. Using cutting-edge technology, the brand is committed to minimising its impact on the planet and uses natural materials and sustainable packaging while focusing on creating bold and beautiful products that last.
Come and visit us in our opticians in Potters Bar, Finchley, and Temple Fortune and choose your 2023 style from our hand-picked range of designer frames, including several styles from Etnia Barcelona.