Halloween and contact lens safety
With the spooky season almost upon us, some of you might be considering Halloween contact lenses to complete your look.
Novelty lenses come in all sorts of fun designs, cat eyes, zombies and werewolves to name a few, so it's no wonder they're a popular addition. However, while they definitely add a fear factor, this can sometimes be for the wrong reasons.
All contact lenses, including decorative ones, are classed as medical devices and if they're not fitted properly, they can cause significant irritation or damage to the eyes.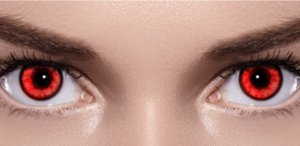 If you are considering wearing novelty contact lenses this year read our handy guide below to avoid eyeball-related scares this Halloween.
The dangers of cheap contact lenses
You can buy coloured contact lenses from lots of places, such as costume shops, market stalls and online. But buying from non-medical outlets, where a prescription is not required, could put your eye health at serious risk. What's more, these retailers may not maintain the same high level of safety standards as those supervised by registered opticians.
Get a contact lens prescription 
Coloured contact lenses are safe to use if they are properly fitted, so checking what contact lens material is being used, whether it comes in your prescription is vital before purchasing them, as it would be for any other type of contact lenses.
You can consult one of our contact lens practitioners for advice before buying novelty contacts to ensure this.
Using your contact lenses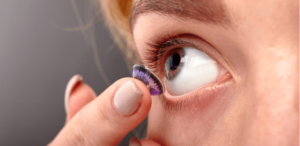 Once you have purchased your prescription Halloween contact lenses, you need to take care of them and make sure you insert, remove, and store them safely. Inserting a lens incorrectly could harm the cornea, so if you aren't regular contact user you need to ensure you feel confident before attempting to do so.
Insert them after you apply your spooky make-up and remove them first before cleaning it off. Always wash and dry your hands before inserting and removing contacts, making sure there are no towel or tissue fibres on your hands.
Don't sleep in your lenses and if your eyes become irritated at any point, remove your lenses as soon as possible.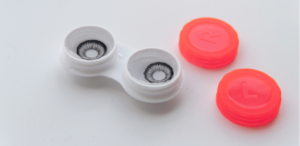 Usually, Halloween contact lenses aren't suitable to use more than once, but if that happen to be and you are planning on using them more than once, ensure you store them in a clean lens case with solution inside at night. Although it hopefully goes without saying, we strongly advise you to never wear contacts beyond the expiry date.
Contact lenses – the real horror stories
Eye health warnings are rife around Halloween since the dangers of cheap contacts have become a common problem. Experts have reported cases of friends sharing contact lenses with one another, lenses being incorrectly stored in water, and being kept for use for the next Halloween.
One widely reported case involved a young girl who was temporarily blinded after her cornea was damaged after just a few hours of wearing novelty contacts.
Avoid your own personal horror show this year and ensure you seek advice before purchasing Halloween contact lenses. Get in touch for advice from one of our experienced contact lens practitioners today to ensure you have a scary Halloween for the right reasons!